The BE GOOD KIDS© – Products Page
We are pleased to offer a wide assortment of exciting products and materials for your reading enjoyment and educational development. In addition to educational books, we offer a wide range of products such as the curriculum product, promotional products, and greeting cards.
The Be Good Kids Products
Books, books, books. Follow this link to check out the latest edition. They are going fast. To make sure you get your copy, get your order in today!!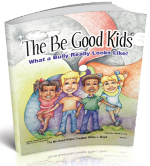 We have a full line of greeting cards for every occasion. Each is customized to fit just the right sentiment, occasion, and the right Be Good Kid!

Follow this link to get information about the Curriculum for Pre-Schoolers and Kindergarteners. A simple, direct help-aid for the complex, multifaceted challenge of character development.